Bridge Vessada House river and corn field, is an exclusive private house, for 4+2 people, integrated in nature. Generous corn farm field, big trees, Veade River, and little beachriver with dam. Two large bedrooms (double-bed and two singlebed), two bathrooms (one with disabled mobility features*), living-room with sofabed for two people. Near our farm, with organic products and animals.
*disabled mobility: building can be used as an assisted house, with pre-installed features such as alarm wires and others.
Location: Rua do Corgo, 2061; 4890-182 CORGO
https://goo.gl/maps/buKWVuhtYqQM1Bk76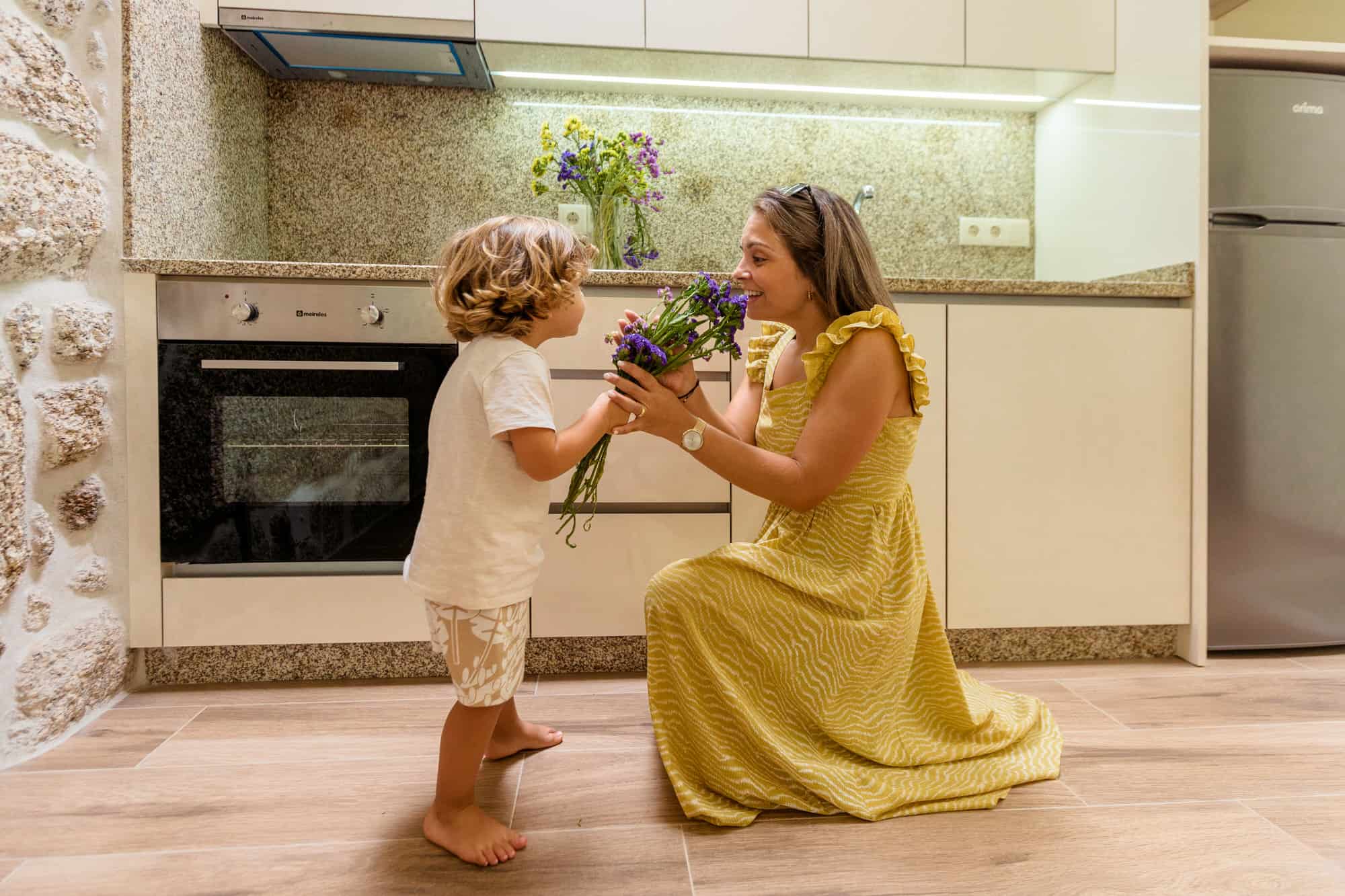 Facilities**
Recently converted oliveoil rivermill. Interiors are ready, exteriors still require some work in short term.
House organizes a living-room, hall for two bathrooms and two bedrooms. Main door to livingroom, and backdoor to river, all through livingroom.
North bedroom has connection to exterior. Insulated inside walls, roof, and very thick rock wall (1meter almost).
Livingroom with equipped kitchen (small equipments for holidays mode), comfortable sofabed for two people, table, chairs.
Bathroom, smaller one with shower cabinet, for current use. Bathroom for disabled mobility (closed by default).
Annex with storage.
South side with river access, mini beach with sun shade under the rock bridge, dam with gate. Exterior tables, plenty of sun shade with high "platano" trees.
East with generous corn field.
**Exteriors untill October will have work at pavement, also wall near river, and outside deck.
Perimeter requires some water spraying for dust prevention, oftenly. (While exterior works are on process)
After finish exterior, later, we place gate near street.
Water is provided by ground pump, not drinkable, from field. Bottled water is recommended for drink. Food wash and boil properly.
Sometimes we use access for corn field, due to plantation and maintenance.
---
"Desfolhada"
Traditionally corn field is celebrated with local costumes, popular music, and other celebrations. Specially known for "king-corn" in which people celebrate with enthusiasm and kisses or hugs people closest to him/her. You can check our video and images below:
---
Surroundings
Fermil de Basto with new Cultural Centre, playground, coffee and take-away, bakery, supermarket, and others.
Canedo de Basto with new Cultural Centre, exhibitions, coffee, supermarket, and connection to ecotrail from Arco-de-Baulhe to Amarante.
Local grocery, coffee shop within one km. Local Restaurant with good portuguese food, traditional space feel. Local trail connects our Rivermill with river bathes, and at Requeixo also, with a delicious codfish cake from a local producer. Yoga contact can be provided and other activities.
You can visit our new Rivermill at Borba de Montanha, with spinning exterior wheel, live mill for grain grinding and local housing. Around can enjoy River beaches (Fermil, Quintela, Borba de Montanha). From Amarante to Mondim de Basto, there is an Ecotrail for the family, by bicycle or walk. Tâmega River.
The closest locations are Celorico de Basto (with a Ludic park with several mills and river; good restaurants) and Library; Amarante, Guimarães, Mondim de Basto; Alvão Park.
---
Some specifications
Equipments:
Water heater
Water pump and connection (no water company)
Combined fridge and freezer.
TV, Internet Wifi Fiber speeds untill 200 Mbps.
Cooling/heating system (pre-installation for Heat Pump).
Cloth washing machine and dish washing machine (pre-installation).
Small Equipments: Microwave, Coffee Machine, Toaster, Portable fan, Water heater for tea (to be installed)