Now with Local Trail, the Rural Universe, properly marked, symbolizes and interconnects the natural spaces cared for by us, a "resort" of National and Rural Heritage, uniting the community, the various local accommodations, in a Universe of Countryside, Rural, Exclusive, with few people and safety distance. The connection with Nature, the Bouro River (Veade), the various dams, and the delicious cod pastels. Generally close to the Quinta. The heart of the farm expanded, positively contaminated the place, the commerce, the people, the spaces. The Handicraft Universe around the Quinta can be your enjoyment, in addition to the Local Accommodation. We marked the various options of the Local Trail. We have a short one, a longer one, and one for experts, up to Ribas. Start at "Lavoura da Bouça – Fruta Bio".
---
---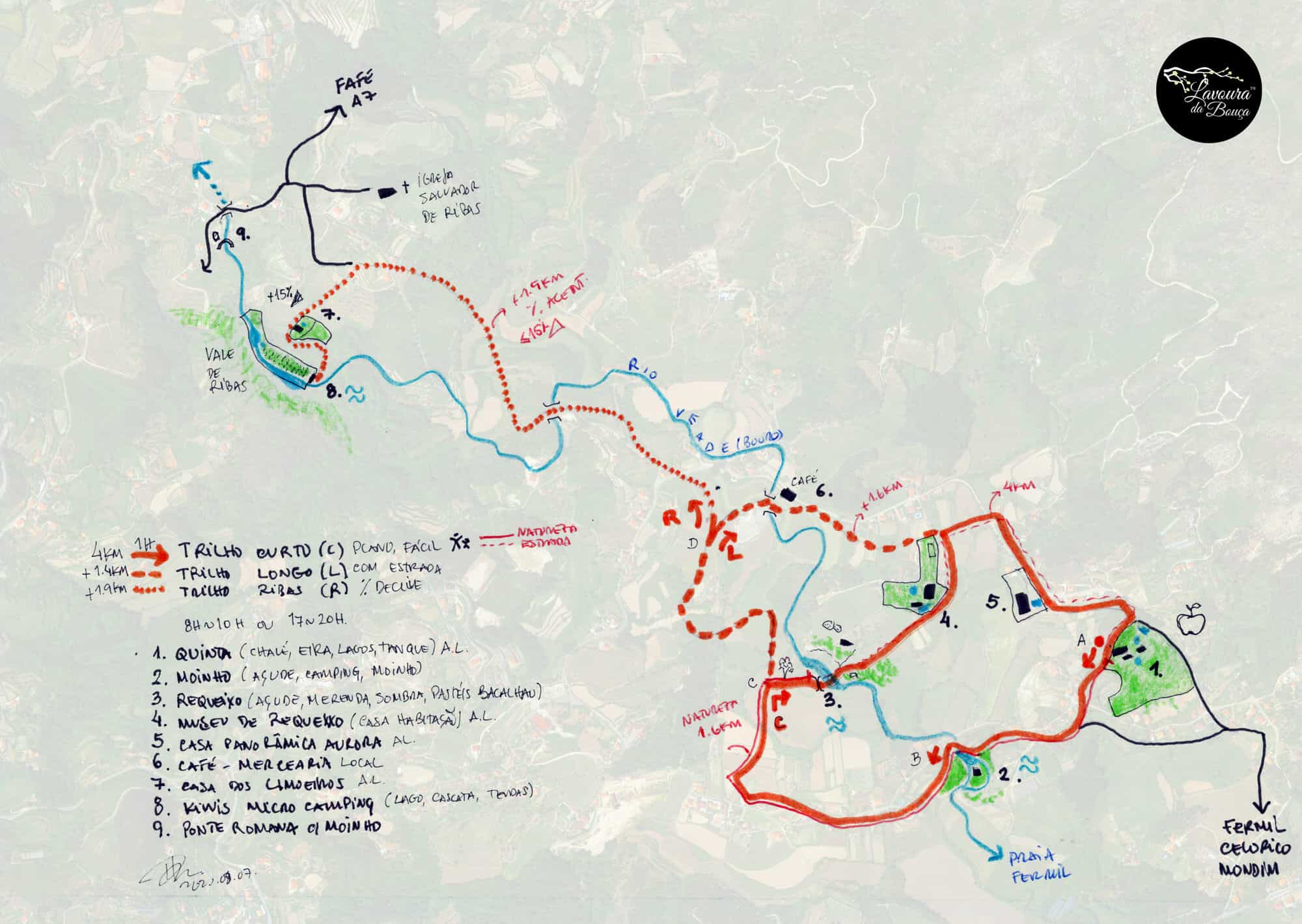 ---
---
(-> C)
Short Trail, a great walking path for families and children. Flat course with little slope. Natural shade with some paving. First pleasant break at the Moinho de rio with weir for bathing and waterfall.
Continue towards the new weir for baths and cod cakes, in Requeixo. The most suitable for children, to debut, but it will be good to have footage.
(-> L)
Long Trail towards the blueberries, local coffee, and return to the farm. Much of the return in pavement, with little shade.
(-> R)
O Trilho de Ribas, para aventureiros desvio até ao microcamping dos Kiwi's em Ribas. Percurso declivoso e íngreme. Desvio antes de chegar ao Café-Mercearia.
***
SHORT TRAIL (-> C)
.up to 3 km, circular
.practically flat, ideal for family with children
.best time, early in the morning, end of the day
.attractive: 2 weirs, snacks, mill and cod cakes
Great for families, with children, close to the Quinta, with two ponds, a picnic area, and cod pastries (dumplings, here in the North). Walking, calmly, until 1h, circular route or round trip. Marking with orange arrows.
(A) Starting from our Quinta (1.).
(B) The first section, very close to the Quinta, until the Açude do Moinho (2.), 500 meters away.
(C) The second section, to continue 1,100 meters, between the village, in shade, and mountain landscape, glimpsing Monte Sra da Graça, and cultivated plains, up to the Requeixo weir (3.). With shade, picnic tables, and delicious Codfish Pastries from Dona Rosa, a local resident.
After refreshing Requeixo, you can return by going to the "Manor House-Museum of Requeixo" (4.), until the main road; or continue on the long track (-> L).
***
LONG TRAIL (-> L)
.up to 4 km, circular
.cafe-grocery store for reinforcement
. refreshment tank
Caminhando 1.600 metros a bom passo, a vislumbrar o campo de mirtilos, até à bifurcação, em que pode escolher continuar pelo Trilho de Ribas (-> R), ou à direita, reforçar energias no Café-Mercearia local (6.). O regresso à Quinta é sempre por estrada calcetada, passando por entroncamento de Requeixo (4.) e Casa Panorâmica Aurora (5.).
***
RIBAS TRAIL (-> R)
.9km detour to Vale de Ribas "Kiwis".
.microcamping kiwis
.Lake with waterfall
At the fork between Water tank and Café-Grocery store seen in the distance, you can cool off in the tank and follow the pasta (-> R) until Vale de Ribas. For adventurers, accustomed to strong hikes, with steep slopes, through a narrow curved road, to the well-deserved bath in the lake with waterfall of MicroCamping Kiwis (8.), with 300m shade of kiwis, great for Tents, with a Lunch table , barbecue, and Solar Shower.
Further on, Roman bridge, old with a ruined mill (9.).
Mapa antigo GPS:
bit.ly/boucatrilho
(por actualizar com novas opções)
OTHERS:
– Fermil de Basto River Beach
– Ecopista do Tâmega (ex-train line), from Amarante to Arco-de-Baulhe. (up to 40km)
– Walking routes, including some Vinho Verde themes.
Tips and Notes:
– You can also do well by bicycle.
– Bring good mood, joy.
– Water and some reinforcement for children.
– Bathing suit for ponds.
– Best time, early in the morning or late in the day from 18:00.
– Avoid hours of heat.
– A strong father to take the kids to his lap if necessary;)
– Children not used to the countryside, it is a good debut for walks.
—————–
LEGENDAS
SHORT TRAIL (-> C)
.up to 3km, duration 1h, flat, easy, for family and children, on a mixed nature / road route
LONG TRAIL (-> L)
.1.4km extension, downhill, on the road, with little shade.
RIBAS TRAIL (-> R)
. extension in deviation, with steep slopes, for experts, up to the bonus with lake and waterfall.
POINTS OF INTEREST
1. "Lavoura da Bouça – Fruta Bio" (Quinta), with A.L. Chalet, Eira, Agricultural Land, Lake Buda
2. River Mill, with weir, two river currents, flat area of ​​tents
3. Requeixo, with generous weir, high shade with picnic tables, and cod pastries.
4. House-Museum in Requeixo, with local accommodation
5. Aurora A.L.
6. Café-Mercearia Local
7. Casa dos Limoeiros A.L.
8. Vale de Ribas, Microcamping Kiwis, with lake, waterfall, barbecue.
9. Roman bridge with ruined windmill.
BATH WASHER
2. Moinho de Rio weir
3. Requeixo weir (cod pastels)
8. Lake type weir with waterfall and Kiwi shade.
A – Start of Courses, in front of the Quinta's gate
B – River Mill
C – Deviation for Requeixo
-> C Short Trail
-> L Long Trail
-> R Ribas Trail
GPS Mapping and Reporting with Hugo Nascimento (@storiesmadevisual)