Take a break from your trip, taste our organic products, explore the local trail, bathe at Requeixo reservoir, or at Moinho reservoir, or at the kiwifruit waterfall in Ribas. The private land of Requeixo is more private, wider, with more space for larger vans or caravans. Caravan, optional, for support, with hot shower and electricity. New: Wifi 4G mobile, optional, if available, high season only.
You can explore the large terrain of Requeixo, with shaded spaces (only if the accommodation at Casa Maior is not occupied); visit our Quinta, with free animals, geese, sheep, ducks. Buddha lake swing. Ask for solar ovens!!! Visit to the River Mills!!! Parking next to the Red Covered Warehouse.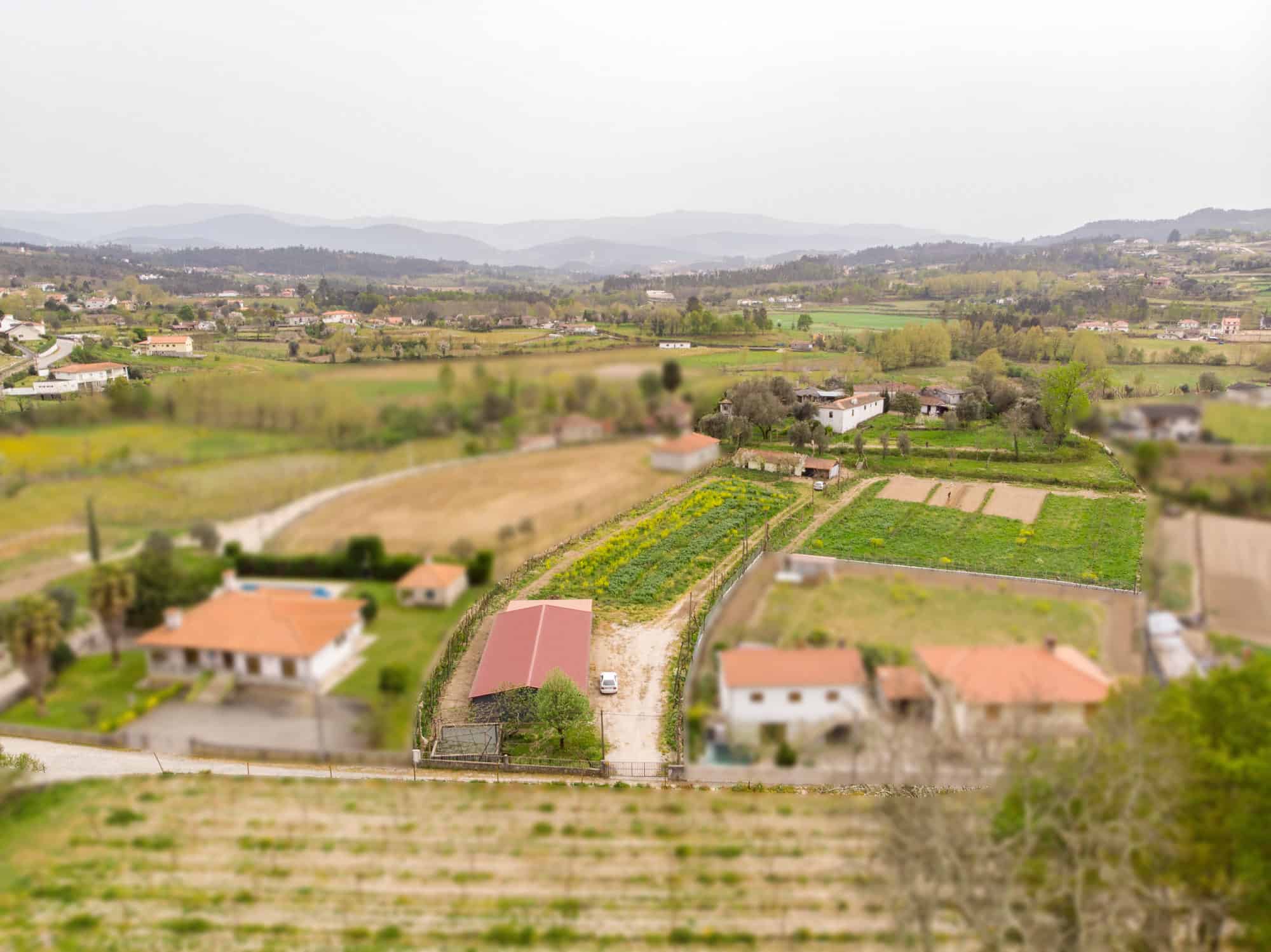 Requeixo
---
On the sweet lupine plantation land, close to the warehouse, you can stay overnight. Support with water point, electricity. Local caravan for bathing, bathroom, electrical support.
Nearby weir for swimming in the river, with oak shade for a picnic (also with dry toilet).
Features:
Suitable for vans larger than 6m, or vehicle with caravan.
Support at local caravan, for bath and light.
Electricity and hot shower.
Electricity, Shower, Bathroom, provided by the attached caravan (if available).
Without Internet (Wifi 4G mobile, optional, if available, high season only).
Fire NOT ALLOWED. Cooking inside the campervan.
Barbecue with fire precaution.
Water point outside. Faucet.
We only reserve for 1 or 2 spaces. Few people. We like to maintain privacy/exclusivity.
Access through Rua de Melhorado, 472, after Quinta with coat of arms.
Google Maps: https://maps.app.goo.gl/6dn87awGt8KzxrJT9
Pets are welcome.
Small grocery store/cafe at 1000m.
To know:
Please notify us in advance for availability.
In the case of larger vehicles, we request a meeting in Requeixo, and then we show/present the remaining spaces to visit.
You can visit our Farm, 800m nearby, with free animals, sheep, geese, ducks, swing in the buddha lake.
Solar ovens to try.
Close to river weirs for bathing, at Moinho de Rio, and at Requeixo.
River beaches in Fermil de Basto, Borba de Montanha, Quintela.
Restaurant "Quinta da Travessa", "Sabores da Quinta" near Fermil; "Lake House" in Mondim.
Bike rental with CeloBike in Celorico de Basto.
Guided tours with "Pé na Terra" or "Pena Aventura"
Adventure with "Celorico Emotions"
Vinho Verde with "Quinta Santa Cristina"
Route of the Romanesque
Táxi Nelo +351965082303 (Celorico);
Táxi Marinho +351968018284 (Celorico);
Táxi Joel +351969000246 (Molares);
Táxi António +351967020950 (Fermil);
Táxi Francisco +351 967037562 (Fermil);
River weirs for bathings and relax
---
Requeixo weir:
Rivermill weir:
Other places
---
Motorhome * Farm, with 4 acres, animals are loose, organic products, one or two spots.
Motorhome * Ribas, near our Farm, one or two spots. Requires 1 day pre-schedule. Celorico de Basto.