PRESENTATION
General Booking Terms and Conditions of "Lavoura da Bouça – Fruta Bio" Local Housing, formerly known as "Quinta da Bouça – Fruta Bio", below described as "us", "we", "our". It is a portuguese national brand approved by INPI – National Institute of Industrial Property, under process number 635570. We mainly provide Local Housing, rural nature experiences, and microCamping within our private properties. We are also known for "100% organic applejuice". We have organic fruit under certified organic production CERTIPLANET-CT-BIO-04 from Agriculture European Union. Owned by Eng. José Francisco de Paiva Bento Junqueira. Farm located at Rua de Sampaio, 170, Lugar de Vila Nova, Corgo, 4890-182 Celorico de Basto. (Current website will be under brand transition process.)
---
FEATURES
The rental prices includes features within each offer presentation.
We provide safe preparation and cleaning before and after each stay; a welcome treat with our products; toilet paper for a period of time; appliances and some more. Houses are meant to be autonomous, in which you must bring your own groceries, accessories that you would like extra, and other consumable items.
All houses have an additional Cleaning Fee, fixed value, per stay. Prices vary per house.
---
BOOKING
When we receive your reservation, we will send confirmation by e-mail with details and total cost of the stay.
After confirmation, guest has 24H to perform reservation payment over 70% of total amount, and dates are locked temporarily. After the period of 24h, if payment proof hasn't been sent over e-mail, or other agreed digital process, we will communicate in case there is something to be done or fixed. If not proved, locked dates will be released to other possible guests.
At check-in, the remaining 30% payment of total amount is requested, plus a Cash Deposit Fee/ deposit insurance, depending on the house.
We usually ask for a Deposit Insurance Fee, at Check-In, from 50 to 200 Eur, depending on the House. Conditions will be evaluated, and reasoned if deposit fee must be activated. It is safety measure and responsibility. After inspection of the accommodation, the amount will be refunded.
Minimum stay is 2 between (two) nights to 5 (five) nights, depending on each House.
Check-in*: after lunch (from 15:00)
Check-out*: before lunch (untill 11:00)
*We have flexibility, and can adjust accordingly.
Reservation anticipation must be done between minimum 3 to 7 days warning before arrival, so we can prepare and clean, depending on each House.
Last minute booking usually isn't allowed or not possible, specially at weekends. Since we also have to take care of Farm, and Fair at Oporto City Park. If a last-minute reservation is made possible, total amount of payment, 100%, will be charged, non-refundable.
We highly suggest reading below General Information, House Rules, and Pool Good Use Practice.
note: Website housing platform "www.booking.com" has overlapping booking. When we reach a verbal agreement, we will safeguard and lock manually the scheduled dates to avoid conflicts of interest.
---
CANCELLATION TERMS
Cancellation with full refund up to 48 hours after booking.
Cancellation can be agreed with delay of scheduled dates, keeping reservation amount.
Partially refundable (30 days)
– Guest must pay 50% of the total amount if he cancels after 30 days making the reservation.
– Guest must pay 70% of the total amount if cancellation is within 30 days of the arrival date.
Cleaning Fee is excluded, in case of cancellation.
Guests can also cancel for mitigating circumstances (documentation is required) and receive a full refund, or delay to further schedule.
---
RESERVATION AND CANCELLATION
SIMPLE REVIEW
70% of total amount – Reservation
< 24H = Reservation temporary period, locked dates, wait for payment proof. 30% or 100%.
> 24H = Received proof, we lock dates permanently. Not received, we release dates.
< 48H = Full refund in case of cancellation.

30% of total amount – Check-In
Check-In Date: 30% Remaining Reservation amount + Deposit Fee.
Check-Out Date: Deposit Fee is returned, if all is good.
Cancellation
> 30D = 50% of total amount is retained, or agreement on delaying scheduled dates.
< 30D = 70% of total amount is retained.
Mitigation = Once proven with certified documents, we provide Full Refund, or agreement on delaying scheduled dates.
Cleaning Fee will be excluded.
---
GUESTS RESPONSIBILITY
"Our goal is to provide family home for you. If you take care of it, next guests will also be happy."
"We have an ecological way-of-life, and community way of thinking. If we all contribute for each one wellbeing, and good care, we can proceed furthermore. We thank you for your kindness and responsibility. Accidents do happen and it's better to know them before than later, to have time to fix or act. Thank You."
We are not responsible for damage, loss, theft, accidents and different non-related nature, this remains your own responsibility. Entering or using our local housing, exteriors and/or contents, is the responsibility of the guest or visitor. Children under the age of 12 must always be accompanied by an adult by the pool or other possible danger areas. Children who are not yet able to swim are obliged to wear swimming protection gear. The trip to our places as well as other risks are at your own expense. We advise you to take out travel insurance for this.
At MicroCamping and Natural Places, Rivermill, Requeixo and Kiwis (specially at Rivermill), we prefer not to accept children, since the place is raw nature, and cannot provide for security or accidents insurance. All surveillance and responsibility must be provided by the Adult Guest or parents.
We are friends of animals, but we ask to be carefull inside the house. To prevent possible damage, and other situations, we prefer to keep him/her outside on a petbox, close to the owner, if possible. Or we can provide a place for him/her. Is damage or poor care is done, we can charge additional fee or the insurance fee.
We usually ask for a Deposit Insurance Fee, from 50 to 200 Eur, depending on the House. Conditions will be evaluated, and reasoned if deposit fee must be activated.
---
HOUSE RULES
🔑 Keys are given on check-in and returned on check-out. House Conditions will be evaluated, and in case of damage or loss, deposit fee will be activated.
☑️ Most of the houses have a deposit fee as insurance, returned on the check-out, in cash.
🧫 Swimming Pool must be under responsible use, specially surface-type, no diving jumps allowed, or extreme pressure into the sidewalls. Children always under survellaince. We are not responsible for children or accidents.
🧻 Paper toilet is provided for a period of time.
🚽 Most houses are on rural areas without urban-like sewer connections. All toilet paper must be in the bin trash (diapers, female hygiene, or other items). Paper inside toilet can overload the manual system.
📞 Accidents, and damage can occur. Please warn us once detected, to help or be repaired in time. Next guest will also thank you. 🛠
🎲 Use table games ping-pong, football-table (Castle House) and snooker pool (Panoramic Aurora House) with care.
🚭 All interiors are non-smoking.
🐕 We are friends of animals. If possible, bring their "personal house" to be outside or nearby. If inside please be aware, clean and carefull. If damaged is done, or poor care insurance fee or additional charges may apply.
♻️ Be envolved saving Nature, and separate your trash. Thank You.
🧺At Nature surroundings and exteriors, farm or street. If trash is made, please carry it with you untill a proper bin and ecobin is reached. Preserve and keep our places clean, for you and for everybody.
🦠 Please leave the house as you've seen it, if possible. Sometimes we have next-day bookings and less time. Thank you.
---
QUESTIONS AND ANSWERS
🥣 Do you have breakfast or meals?
The houses are autonomous, you must bring supplies for consumption, for food, barbecue or others. Sometimes there are coffee capsules, or charcoal, firelighters and others. We usually greet with a treat from the Quinta. We have dishes, plates, cutlery, pots, pans, everything necessary for cooking. Some houses have a dishwasher. They are usually hand-washed.
🔑 Are the spaces private?
The houses in general are private, and properly walled. Except for the Chalet, once in the center of the farm, with a common front. However, we preserve privacy, and the outdoor space is wide enough to avoid crossing people. Access to the Chalet's pool-tank is through private land, exclusive to the Chalet, and properly fenced.
🔑 Is the Pool Private?
In general the pools are private, sometimes of different models. The larger houses have two in-ground saltwater pools. The remaining houses, with surface pools, with chlorine treatment. The Chalet has a traditional pool-tank, exclusive to the Chalet, with running mine water, cleaned daily (6x7m, 90cm deep), with private access through Campo das Aveleiras. They should be careful and enter with clean feet, free of debris – see pool recommendations.
☕️ What is the coffe brand?
The brand is Dolce Gusto. Some homes may have old-fashioned coffeemakers. Please bring capsules or coffee and sugar to your liking.
🏡 Do I need to bring bed linen or towels?
We have bed linen, properly sanitized and disinfected, with change before and after each stay. Bathroom towels, ditto. Guests must bring their own beach towels. Some houses may have a washing machine. In general we do not have a laundry service.
---
SWIMMING POOL
GOOD USE PRACTICE
"Taking good care, and next guest thanks you too."
🦶 Clean your feet first, thoroughly before entering (avoid having sand or stones). The screen may tear.
📞 If more chlorine, or cleaning is needed, please call us. Cottage pool-tank is from clean water, always flowing, cleansed by our staff daily.
🚫 Jumping and diving must be avoided at all, because despite having structure, they are not resistant enough.
💪 Avoid pressing or forcing the sides.
🔪 Avoid sharp objects.
☑️ We have the Inflatable-type (which cannot have a load on the walls, nor dips).
☑️ We have the Surface-type with steel and pvc, at Limoeiros and Requeixo.
☑️ We have Rigid Steel on the floor at Eira.
☑️ We have salted water ground pool at Panorâmica and Castelo. Efficient and ecological. Avoid diving.
---
GENERAL INFORMATION
🚗 Free Private Parking.
🏡 Our housing are autonomous, essential equipment, kitchen appliances, sheets, coffee machine, and so on. If in need of something can ask us.
🍴 We can suggest places to eat. Or We don't provide meals or breakfast service.
🛒 You should bring your own shopping. For shopping must go to central Celorico de Basto, or more local at Fermil de Basto. Better to arrive properly supplied.
🧦 You do your own cloth washing if needed. We have a cloth washing machine at Farm, in case the House doesn't have one. We don't provide cleaning or washing service within stay.
*
📸 We can provide suggestions for your holiday. Sightseeing, Adventure, Wine tasting or other.
🚕We can provide bike rental contact at external services.
🚴‍♂️We provide car service contact at external services.
*
💻 Wifi password general is frutabio. We try to make it simple, but if it doesn't work, you can find in small white label, under the rooter equipment, WIFI SSID and WIFI KEY. Most rural houses are 4G wireless signal, limited to 10~20Mbps velocity and must be used wisely without overuse. There is a bandwidth service limitation.
📡 TV is usually Satellite, although some houses have cable.
*
🍏 We have natural places, and our Farm to explore. Pick-up an Apple and taste it if you would like.
🐑 Our farm has loose animals, once and awhile. They are more scared from people, than the opposite. They are harmless.
🧫 All Pools are private, and water surface are cleaned with Chlorine, washed. All ground pool are salted water, ecological and more efficient active cleaning. Chalé Tank water is emptied and renewed every end of the day.
❄️Air Conditioning: At Chalé, Eira, Limoeiros, and Panorâmica. Castelo and Requeixo are traditional, rock thick, without air conditioning. Valadares is also fresh.
🛏 All bed sheets and bathroom towels are included. Pool towels not included. If wash is needed, you must use the washing machine or ask to use one. We don't have cleaning service.
👼 We have baby furniture (cribs, high chairs), and sheets for babies, by request, and depending on availability. Free.
🌺 Extra Beds can be provided, depending on each house occupancy limitation. 20 Eur will be charged per night.
🏃‍♂️ We do not take responsibility over children accidents at river sites, or nature related.
*
🆘 In case of Medical Emergency call 112 📞
🩹 There's a first aid kit in every house, and necessary security measures.
*
📖 We thank you for writing on our guestbook, and warn us of anything you would us to improve before writing negative comments. Let us grow with your opinion.
*
---
LICENSE
LOCAL HOUSING
All Housing are validated by Tourism National Registry https://registos.turismodeportugal.pt/. An electronical complaint book can be found for each local housing here https://www.livroreclamacoes.pt/inicio
22073/AL
CHALÉ "Chalé da Quinta",
https://g.page/lavouradabouca?share
EIRA "Casa da Eira",
https://g.page/casaeira?share
MOINHO "Moinho de Rodízio"
https://g.page/moinhodalavoura?share
Rua Sampaio, n. 170, 4890-182 Corgo, Celorico Basto
88754/AL
LIMOEIROS "Casa dos Limoeiros em Ribas"
Rua da Covilhã, n. 239, 4890-508 Torres, Ribas
https://g.page/casalimoeirosribas?share
93148/AL
PANORÂMICA "Casa Panorâmica Aurora"
Rua do Melhorado, n. 862, 4890-552 Vale de Bouro, Celorico de Basto
https://g.page/casapanoramicaaurora?share
111241/AL
REQUEIXO "Casa Lavoura em Requeixo" (Museu, Estudio, Caseiros)
Rua de Requeixo, n. 228, n. 182, 4890-552 Vale de Bouro, Celorico de Basto
https://g.page/casasenhorialrequeixo?share
CARAVANA
Rua de Melhorado, 472, after noble farm.
https://goo.gl/maps/i2wPTBpm7UxGwS2G6
106511/AL
CASTELO "Casa do Castelo em Arnóia"
Rua do Castelo, n. 621, 4890-020 Arnóia, Celorico de Basto
https://g.page/casacasteloarnoia?share
22118/AL
VALADARES "Casa de Praia em Valadares"
Rua Caetano Remeão, n. 419, 4405-537 Valadares, V. N. Gaia
https://g.page/casadevaladares?share
AL pendente
COUTO "Casa do Couto * Campo e Surf"
Rua do Comão (end of paved road, after farming greenhouses)
4495-225 Navais, Póvoa de Varzim
https://g.page/coutocamposurf?share
121092/AL
AZENHA DE BARREGA
R. de São Brás. 745
4890-104 Barrega, Celorico de Basto
https://goo.gl/maps/YF1nuysR66hDzGuU6
---
OTHERS
PLACES TO VISIT
AZENHA DE BARREGA
Rua de são Brás nº 745 Barrega, 4890-104 Borba da Montanha, Celorico de Basto.
MOINHOS DE VENTO DOS JUNQUEIRAS
(A Sul) Travessa da Azenha (adentro do monte por um caminho), 4495-237 Navais, Póvoa de Varzim
(A Norte) Rua dos Moinhos (adentro dos campos, por um caminho), 4495-234 Navais, Póvoa de Varzim
Near our farm, available local coffee with grocery shop for day-to-day refill, less than one kilometer.
https://goo.gl/maps/ayBTmphf8asHYmMr9
Also other local coffees and grocery shops along national road, on the way to Canedo de Basto, and Fermil de Basto.
Restaurants we recommend:
"Quinta da Travessa", near Farm
https://goo.gl/maps/yXhyiaL5vA6fKWXaA
"Sabores da Quinta" on the way to Celorico de Basto
https://g.page/Saboresdaquintamolares?share
"Casa do Lago" at Mondim de Basto
https://goo.gl/maps/A5EGiQEfMP1Hrsqa7
Urban Supermarket "Pingo Doce" at Crespos, Celorico de Basto.
https://goo.gl/maps/CEt52QZkZMHRpeB37
---
CLEAN & SAFE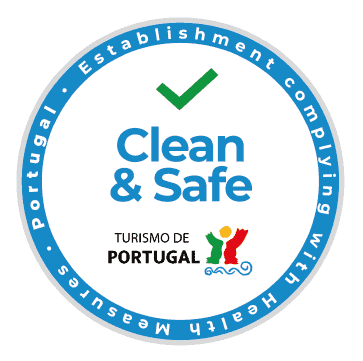 Most places have recently certified with "Clean & Safe" stamp and had formal formation by Portugal Tourism (http://business.turismodeportugal.pt/)
☑️ Quinta da Bouça (Chalé, Eira, Moinho)
☑️ Casa Panorâmica Aurora (D'Além)
☑️ Casa dos Limoeiros
☑️ Casa do Castelo em Arnóia
☑️ Casa de Praia Valadares, Gaia (under owner name)
☑️ Azenha de Barrega, Barrega (pending)
☑️ Casa da Lavoura em Requeixo (pending)
---
NEWSLETTER AND GPDR
Accepting the newsletter, with your e-mail, you agree to be subscribed into our free newsletter, managed under MailChimp Terms and Conditions (https://mailchimp.com/legal/privacy/), under quintadabouca.media@gmail.com account.
---
OBLIGATIONS
Portuguese Immigration and Borders Service (SEF)
When staying in a hotel guests are used to show their IDs at checkin. Short term rentals are also required to report guest's information to SEF – it is called the Accommodation Bulletin.
When you make a reservation in a registered Local Lodging establishment (an apartment you booked on airbnb, booking or other similar website) your host is required to report your presence and details to the Portuguese Immigration and Borders Service (SEF) within 3 week days of your arrival.
Most hosts prefer to collect this information shortly after you booked, along with check-in time and other details, but your documentation must also be verified at check-in.
Procedure is also mandatory in other countries – document. Can also find here more information regarding SEF communication.
Fill-In our form, or download and print this paper.
Accepting
Thank you and hope you enjoy our places!
☀️🍏
---
This document was written at 2020-07-24, revised at 2022-04-07.